M2e ViewSonic Projector product review by Adam Broderick.
I would best describe ViewSonic's latest M series projector as a comprehensive entertainment system.  I was excited to see how the new Time-of-Flight (TOF) technology would help me set up the LED projector, advertised to auto-focus in a second and revolutionise projector use.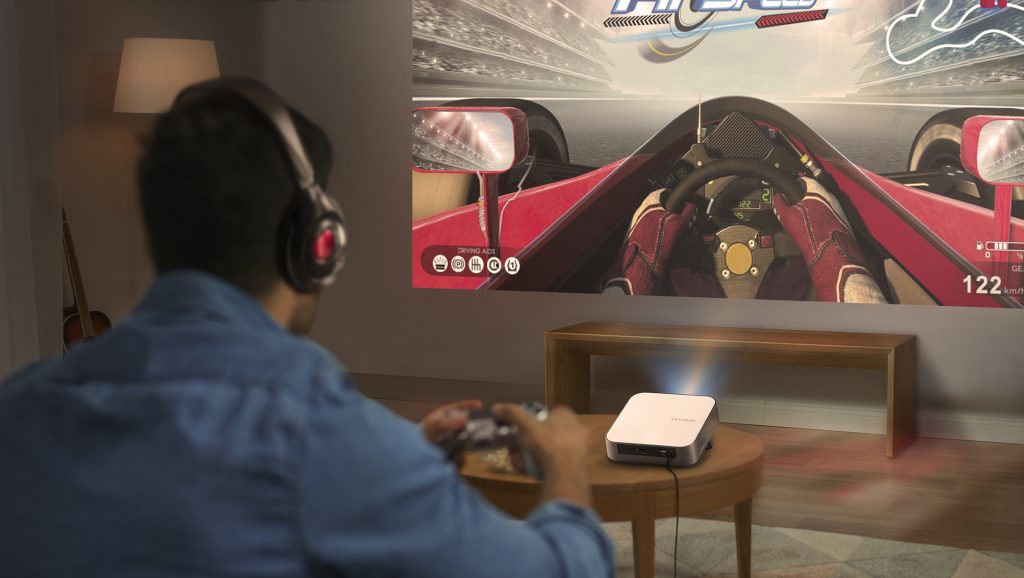 Setup
After taking the M2e Smart Projector home and fiddling endlessly with different setups, settings and backgrounds, I can honestly say I wasted a lot of time. Determined to beat the machine, I made good use of the extensive display options, tweaking the keystone angles and adjusting the contrast and brightness to suit my needs. The end result of over an hour of remote-clicking was almost inseparable from the instant setup the ridiculously-Smart projector handed to me at the first press of the power button.
The ground-breaking instant focus made setup a breeze, even someone as briefly acquainted with projectors as myself could walk into a room and be running a presentation in minutes. The auto instant focus and keystone allowed me to shift around the projectors location frequently until I found the perfect spot to position it out of the way, allowing me to just enjoy my films and gaming. The attached stand is a handy addition that makes setup a tad easier, allowing users to angle the lens onto your background.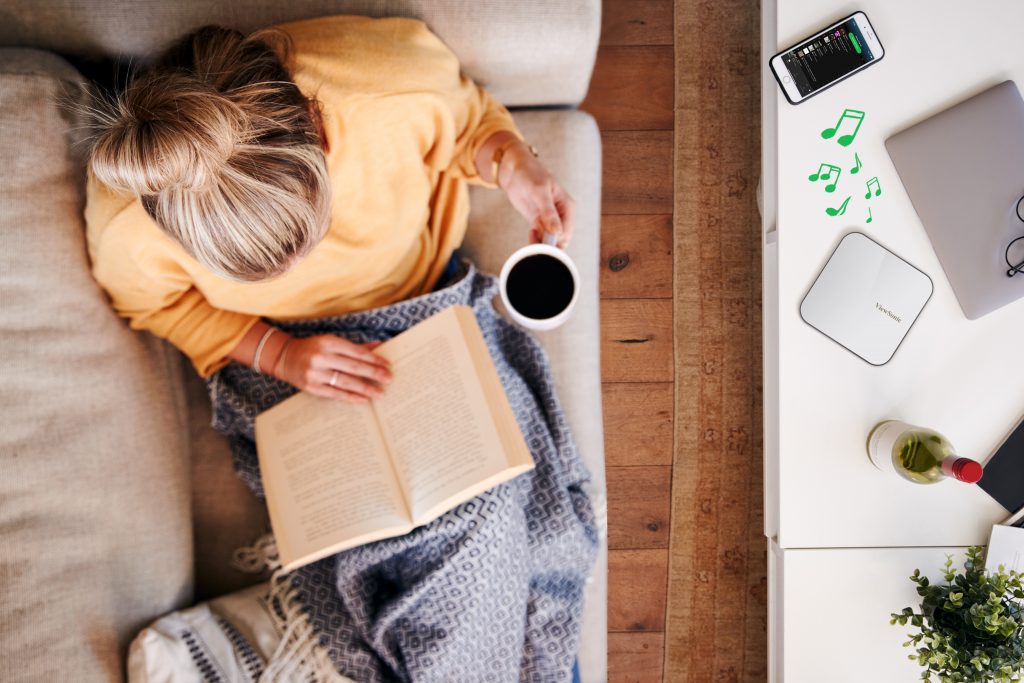 Picture Quality
The picture quality is up to snuff, boasting 1080p resolution at an impressive throw distance of almost three metres, at which distance the HD image is 100" in size.
Whilst the picture quality isn't comparable to a 4k TV or high-end monitor, it more than meets the standard for portable projectors, especially when considering the projector's other functions and portability.
The image quality is naturally best in darker rooms, but only suffered slightly in a reasonably well-lit room in the daytime. Bearing in mind though that this was England in March, so it was hardly sunny outside.
When using the projector for gaming, the picture quality was still definitely adequate, but the refresh rate did result in a drop in frames per second. In more cinematic and story-driven games this isn't much of an issue, but in competitive first-person shooters like Call of Duty and Counter-Strike it did put me at a disadvantage.
Sound Quality
A key feature of the M2e is the built-in dual Harman Kardon speakers. These speakers give crisp and defined audio, sufficient for presentations and casual use. The speakers can't compare to a traditional surround-sound system when used as a home cinema, but the Bluetooth input/output capabilities mean that you can connect the projector to your current sound system if you want that extra level of immersion when using it at home.
The built-in speakers can also be used independently of the projector as a regular sound system via Bluetooth or utilise Screen Mirroring for cable-free and easy streaming. It's also worth noting how quiet the projector is when in use, the low-temperature LED lamp requiring little cooling and resulting in fan noise of only 26dB. In layman's terms, it doesn't sound like a plane turbine in the corner of the room, which I was very grateful for.
Ease of Use
ViewSonic's user-friendly system simplifies and streamlines the user's experience. Customising settings and flipping between input-sources with the provided remote is intuitive, with a well laid-out menu making navigation easy. The most surprising aspect of the M2e was the app store. You can install Netflix, Prime Video, Spotify and other apps, eliminating the need for connection to a laptop or phone to stream media.
The variety of input options is quite handy too. With HDMI, USB-C, Micro-SD and Bluetooth input sources, you can connect this projector to anything.
Portability
This projector weighs one kilo and is less than 20 centimetres in length and width. It's compact and conveniently sized, taking up as much space as a decently sized book in your travel luggage. ViewSonic even provide a carry bag for travel. The M2e is a projector clearly designed to be used on-the-go. The convenient size and extremely fast and simple setup time make this projector ideal for portable use, either for business purposes or on holiday as an all-in-one entertainment system.
The projector can also be powered by a portable battery pack when access to plug sockets is limited. I personally wouldn't use a projector in a moving vehicle, but there's no question it could be done with the M2e.
Value
I would quite happily recommend this projector for home, travel and business use. The combination of HD image resolution, competitive audio quality, easy setup facilitated by the ToF technology and its compact size make the M2e a brilliant projector and a neatly packaged entertainment system for use at home. What shortfalls the projector have are only in comparison to a dedicated audio system, which is easily worked around by connecting the projector to such a system via Bluetooth or aux cable.
ViewSonic seem to be emphasising this products convenience and portability, without sacrificing audio and visual quality. Now as more people are working in the office less as an impact of the pandemic, a more flexible projector might become an essential tool for business.
The M2e Portable LED Smart Projector is the benchmark to measure similar devices. It can do it all, with high quality picture and audio quality, whilst being near-instantly set up. It justifies its' price tag, and I'm sorely tempted to get one myself.